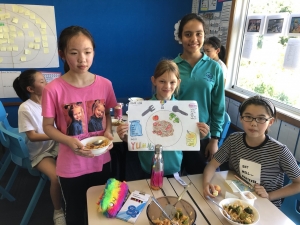 From the team leader 
What a lot of parent help and support we received throughout term one in Team Titoki! Our students' learning is really enhanced by all your support and some things just would not be able to happen without you. Thank you to the parents who helped with our supermarket visits, camp, Room 21's STEAM inquiry, picnic and with the visiting students from Ningbo, China (see photos). A special thanks to the parents who made time to come for a three way conference. The conferences were a great opportunity for each child to share their growth as a learner and for questions to be discussed around the learning process. If you have not yet had the opportunity to meet with your child's teacher, please feel free to make an appointment via email for a late three way conference.
Our big idea in term one was about becoming smart consumers. The students gave us positive feedback about their learning around understanding advertising techniques, and how supermarkets and packaging works to entice consumers to buy. We would love to hear back from you if you have noticed your child showing evidence of any of their learning from last term at home with you.
Welcome new students
Room 20:
Room 21: Zachary Choi
Room 22:
Room23: Kerryn Bertram
Team news
Up and coming trip to Stardome observatory:
Thursday 23 May
Room 20  Thursday 23 May 2019  9.40am – 1. 20pm
Room 22 Thursday 23 May 2019  9.40am – 1. 20pm
Room 21  Thursday 23 May 2019 10.40am – 2.20pm   
Room 23 Thursday 23 May 2019  10.40am – 2.20pm
Team Titoki assembly Week 6, Term 2.
Please check the school Google calendar for all other school wide events.
Our learning
Big Idea: Changes in the Earth and atmosphere impact on our daily lives
Concepts:
Connection

Change

Atmosphere

System
Understanding Goals:
Inquiry into;
The relationship of Earth and the Solar System

Why the Earth has changed and continues to change

How humans respond to Earth's changes
Key Questions:
How does the solar system affect our life on earth?

What causes earth's changes?

How do earth's changes impact our lives?
Writing
We will be learning about a lot of different types of writing this term. However, one of the areas we will touch on is narrative writing as we attempt to write some creative stories about being lost in space or meeting with aliens! Find out what your child's writing goal is and give them feedback on that. Some things we are often focusing on are trying to use different sentence beginnings or lengths or using interesting vocabulary in their writing. Feedback and re-crafting stories is a really important part of the writing process so it is great when you can give some to your child. Remember, this needs to be positive and the work you will see is not usually finished so it will have errors. The best way to give feedback is by getting your child to share their work with you on Google Docs.
Maths
Mathletics continues this term. Your teacher will assign set tasks for your child to complete at home. Thirty minutes per night is what we recommend on Mathletics. In class, your teacher will create a targeted math programme designed to meet your child's needs. Our school believes in students working collaboratively and using problem solving.
Reading
All students should be reading for at least 30 minutes every night.
Room 21 students are expected to complete a book report every Tuesday night ready for book club in the library on Wednesday.  
Spelling
Smart Words continues this term. The Smart Words program is a sequential and developmental word study/spelling programme. It introduces the knowledge and strategies required for effective spelling in a carefully structured sequence of activities. In addition, we aim to be having our class NZ spelling bee in week two and our NZ team spelling bee in week four of this term.
Click edit button to change this text.