PTA News
This week we will be holding our third and last Bake Sale of the term with Pohutakawa presenting their baking skills on the tiger turf on Friday morning 28th June. This follows two other very successful Bake Sales held during the term. A big Thank You to all the parents who contributed to make them both such a success.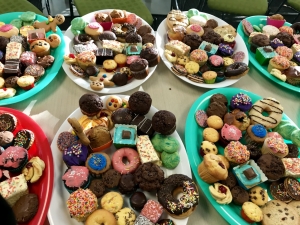 We also recently held our Bingo Night, which was very well received by everyone who came along. I think it fair to say that everyone had a most enjoyable evening.
We are very grateful to FunPlex VR Park, Gull Petroleum, Bucklands Beach Yacht Club and Botany Town Centre, who all sponsored the prizes for the night. We are also grateful to Greg Dove, our organiser of the event. Greg is a former parent and member of this PTA. He was very ably assisted by Matt Pickering, also known to us all as Mr Whippy! We are grateful to the parents who came along that night to lend a hand.
At our next committee meeting on 7th August we will be planning our activities for the remainder of the year. Any parent is most welcome to join us in the Staff Room at 7pm to add your contribution to what we are doing.
Our activities during the rest of the year will include another Disco and an opportunity to have your child or children's picture taken by a local professional photographer in an outdoor setting. The photographer we will be using specialises in taking pictures using natural light. Her "studio" will include areas around the school grounds and either Musick Point or a beach scene.
From now on we are not sending out paper notices of upcoming PTA events. News of these will be published on our website, Skoolbag and on WeChat. Have a great holiday, Look forward to seeing you all in Term 3.
John Winters
Chairman