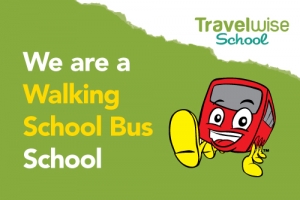 Walking School Bus Information
Pigeon Mountain School has a Walking School Bus in operation covering two routes to school.
The Pigeon Mountain Walking School Bus runs every morning of the term unless cancelled by the designated Driver. Keep an eye out for our bus appearing on a corner near you!
The intention is to ensure that a ratio of not less than one adult to eight children is maintained. For buses of more than 8 children, there should be always at least two adults present – one as the Driver at the front of the 'bus' and the other as conductor at the back.  Adults are issued with a sash or vest so they are identified and clearly visible.
Parents are responsible for their children's safety to and from the designated 'bus stops'.
We try to make the bus entertaining as well as useful for the children. When your child joins the bus, they will be issued with a 'bus ticket' which is clipped after each journey. When the ticket is full, your child can return their ticket to their class teacher and collect a small prize, issued by the school office.
The two routes in operation at the moment are the Prince Regent Route, and Himalaya Drive Route. They do run every day.
Should you be interested in your child joining the walking bus to school, please contact the school office for the full information booklet including the consent form. We would also be pleased to see you on the walk as a helper. If we have more helpers it is easier for everyone and we can consider  the buses expanding to afternoons or establishing additional routes.
1. Himalaya Hikers (Himalaya Drive)
This route runs from the walk way between Britannia Place and Glen Andrew drive every week day morning  at 8:20 am . It proceeds along Mark Edward Drive and enters the school on Laloma Road. There are bus stops along the way.
2. Back Trackers (Prince Regent Drive)
This route runs from the corner of Tuscan Place and Prince Regent Drive every morning at 8.20am. It proceeds down Prince Regent, along Argo Drive and enters the school via the Marina Walkway.
More walkers and adult helpers are needed to keep both these routes going. Adults are always in the company of another adult and even if you can only assist as backup support once a term we'd love to hear from you! If you have a grandparent, neighbour or other family member who may be interested we'd love to hear from them too! This is a great way to meet new people and enjoy some gentle exercise.
There may also be other routes that could be considered.
If you are interested, please contact the School office for more information.
Happy Walking.