From the Principal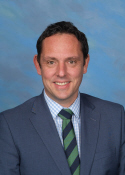 It is important that we retain some perspective in the current virus situation- we are being bombarded with information and media which is often confronting or using shock to gain our attention. A lot has been written about COVID-19, and we are keen not to add too much to the subject. However, our vision is 'to provide Education with a Heart', and our focus is on the physical as well as emotional wellbeing of our children. It is critical, at times of heightened anxiety, that we continue to demonstrate the school values of Respect, Resilience, Responsibility and Excellence. This means towards one another, our fellow community members, and most importantly in front of our children. It is easy for the anxiety of adults to pass to children- sometimes we do not see the effect our anxiety and stress has on them, but it is certain that they feel it, and internalise situations. Please be conscious of how you behave around your children- our teachers will continue to be positive, and promote health and wellbeing in line with our strategic goal in this area, and grow good habits that will serve the children well through life.
This simple NZ-made video demonstrates the function of handwashing and the importance of doing it correctly.
An article in a highly respected UK broadsheet newspaper had some excellent advice about how to speak with children in a truthful, but comforting way. We have found this is a useful preparation for our teachers if they are posed questions by students about COVID-19, and would like to share it with parents as part of our strategic goal of 'Supporting the Wellbeing of all in our Community'.
Principal's Email Group
We are about to send out our first Principal's eMail Group survey of the year. This group is a collection of involved parents who are willing to give 10-15 minutes of their time each month to share their thoughts on a theme relating to Pigeon Mountain Primary School. Previously, these surveys have covered subjects such as Uniform, Reporting to Parents, Use of Digital Technology, and School Vision.
If you would like to be part of the group in 2020, please email iand@pmps.school.nz to be included in the mailing list.
Staffing News
We would like to congratulate Miss Doughty who will be leaving us at the end of Term 2 to give birth to her first child! Alicia and her partner Kyle are expecting the arrival of their son/daughter on 12th August, and we wish them both well in coming months, and lots of good luck and energy once their new arrival appears! We look forward to seeing Alicia back on board at PMPS  in 2021!
The appointment of our new Deputy Principal is progressing well. We had a large field of excellent candidates, and we are holding interviews with shortlisted candidates on 14th March.
Cleanest Classrooms
Congratulations to Rooms 12 and 13 for winning the first few weeks of our Crest Cleanest Classrooms Award. The cleaners working in our school have commented on the efforts these classes go to in order to make the rooms tidier at the end of each day, and easier to clean. They both stack chairs neatly, check the floor for small scraps of paper, and move furniture to help the cleaner work. Well done to Rooms 12 and 13 for being the standout classes of 2020 so far!
Dates for your Diary
10th, 12th, 17th March- Final Swimming Squad Training Sessions
19th March- NO Swimming Squad Training Session
10-13th March- Year 6 Camp
17th March  – HPPA Cricket Day
19 March – BOT Meeting 7pm
20th March- Zone Swimming Sports at Lloyd Elsmore Pool (Selected swimmers)
20th March- Manuka Team Learning Assembly
24 March – PTA meeting 7.30pm
1st and 2nd April- Student Led Conferences
Welcome to
Mahdiya Fatima, Heidi Qin, Dane Spong, Dayyan Abbas, Skye Pang
BOT News
It is important that our community have a voice in our ongoing cycle of Policy Review. We would like your feedback this term on our Recognition of Cultural Diversity policy. Simply read the policy and rate its content and implementation. You can also write suggestions or thoughts for improvement if you have any.
Please log on to school docs and review the policy Recognition of Cultural Diversity.
Instructions to log into Schooldocs;
Visit https://www.schooldocs.co.nz
Search for our school Pigeon Mountain School
Use the following details to log in;
Username; pigeon-mountain
Password; pmps1439
We sent an update around our pandemic procedures and hygiene steps in a newsletter to the community this Sunday 1st March. Please take time to read this update, and previous ones which are located on the BoT Newsletter section of our school website.
Next Meeting Thursday 19 March at 7pm.
PTA News
Welcome to the 2020 PMPS PTA Team
Chairperson:   Rose McRae
Treasure:         Quan Trinh
Secretary:        Monica Miranda
Executive Committee: Pamela De Afonseca, Chris Reed, Camille Browne, Mark Eades.
Thank you to everyone for raising their hand to support the PTA.  We are always looking for new recruits, if you have ideas, a passion for fundraising or just keen to get involved in our PMPS community then send us an email pmpspta@pmps.school.nz and join our awesome team.
Our goal this year is to get a representative from each of the cultures we have at PMPS to further unite our community.  In doing so share each other's traditions, fundraising ideas and thoughts to encourage all our community to become involved by supporting the PMPS PTA.
Our next meeting is Tuesday 24 March, 7:30pm in the PMPS staff room, all are welcome.  Look forward to seeing you there.
Wheels Day
On Tuesday 25th February the Year 5 and 6 students were able to bring their scooters and bikes to school for wheels day.
Our Travelwise group performed helmet checks and ran some fun games for students to practice their riding skills. 
Thank you to Tracey Thompson and Auckland Transport for providing ideas, equipment and support on the day. 
Sports News
Cricket
Pigeon Mountain's cricket team participated in the cricket field day that was held on Thursday 27th February 2020 at Lloyd Elsmore Park.
The team played four games and won one of the games. The scores for the games were:
Game 1 PMPS 40 vs Mellons Bay 45
Game 2 PMPS 27 vs Wakaaranga 31
Game 3 PMPS 82 vs Willowbank  48
Game 4 PMPS 28 vs Cockle Bay 50
It was a hot day out in the sun but the team improved with each game. Players of the day selected by the team were Owen and Arav.
We have another cricket field day on Tuesday 17 March. Good Luck Team!
Basketball
After school basketball will be commencing in Term 2. There is an opportunity for 1 junior team (years 3 and 4) and 2 senior teams (years 5 and 6). More information will be provided in Week 7