From the Principal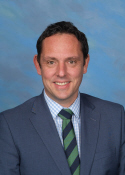 We are in the final stages of what has been a VERY long term, and heading to a well-deserved 2 week break. It is important that you take time to reflect on the events of the past few months, and the significance of the time we have just passed through. For many of our students and teachers, the upcoming holiday will be the first real 'downtime' since late January. Although lockdown meant time at home with loved ones, restrictions meant that there was little freedom and we all felt the stress of what our country was facing through the threat of COVID-19. Lots of our teachers and students continued to use this time as an opportunity to work and maintain learning- the Easter break did not seem like a 'holiday' at all. As parents you no doubt worked alongside your child to retain a sense of normality. From the Wellbeing Survey which we sent out to the community in May, we know our learners approached Level 4 Lockdown with enthusiasm and energy. Thanks to the 349 responses, we know that very few of our children showed a negative attitude towards their learning.
From our survey, we also learned that;
-82% of parents said their child's level of engagement with learning during lockdown was the same or better than previously! 
-Over 88% of parents reported that their child's mood was the same or better than previously!
It is clear that our whole community has shown a great level of resilience during Terms 1 and 2. However, we know that this takes huge levels of physical and emotional energy to maintain. Please take time over the coming holiday to relax and recharge your batteries and give your child space to relax and replenish their energy levels. Here's to a well deserved break!
---
Attendance Update
Thank you to our community for the way you have maintained the calm and productive re-opening of school following the lockdown. Our attendance has continued to be higher than average and compares very well against the same time in 2019.
2-5 June 2020 96% compared with 4-7 June 2019 92%
8-12 June 2020 96% compared with 10-14 June 2019 95%
15-19 June 2020 93% compared with 17-21 June 2019 95%
At the same time, we are thankful for the parents who are keeping unwell children at home for the wellbeing of other students and adults at school.
New Signage
We have a number of signs in school ready for installation in coming days. These highlight 2 important PMPS procedures we are reminding you of. Firstly, our Loloma and Marina gates are locked between 9am and 2.45pm. This enables us to monitor visitors to our site for the safety of our students and staff. The second sign is a reminder that ALL visitors on to the site between 9 and 2.45pm should go to the office to report their arrival. There are no exceptions to this rule.
Car Parking
We are receiving an increased number of complaints regarding inconsiderate parking outside the school, particularly on Wells Road, Loloma Drive and Marina Heights. Please remember to show RESPECT and RESPONSIBILITY when dropping off or collecting your children from school.  Unfortunately some parents are parking over or in our neighbours driveways and on yellow lines. For the safety of all our students and to ease traffic congestion outside school please follow road rules and park and walk whenever possible. The photographs below illustrate the problem we are facing- the behaviour of these drivers is selfish, dangerous and breaks the law.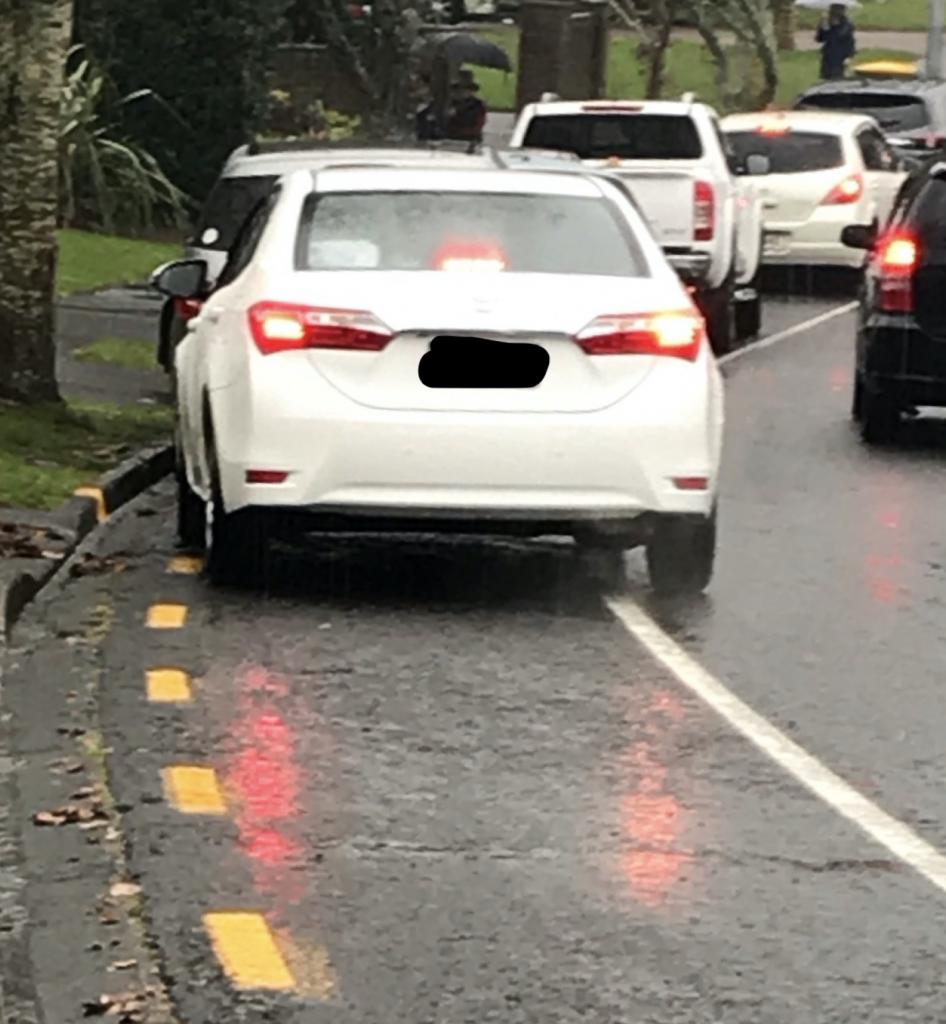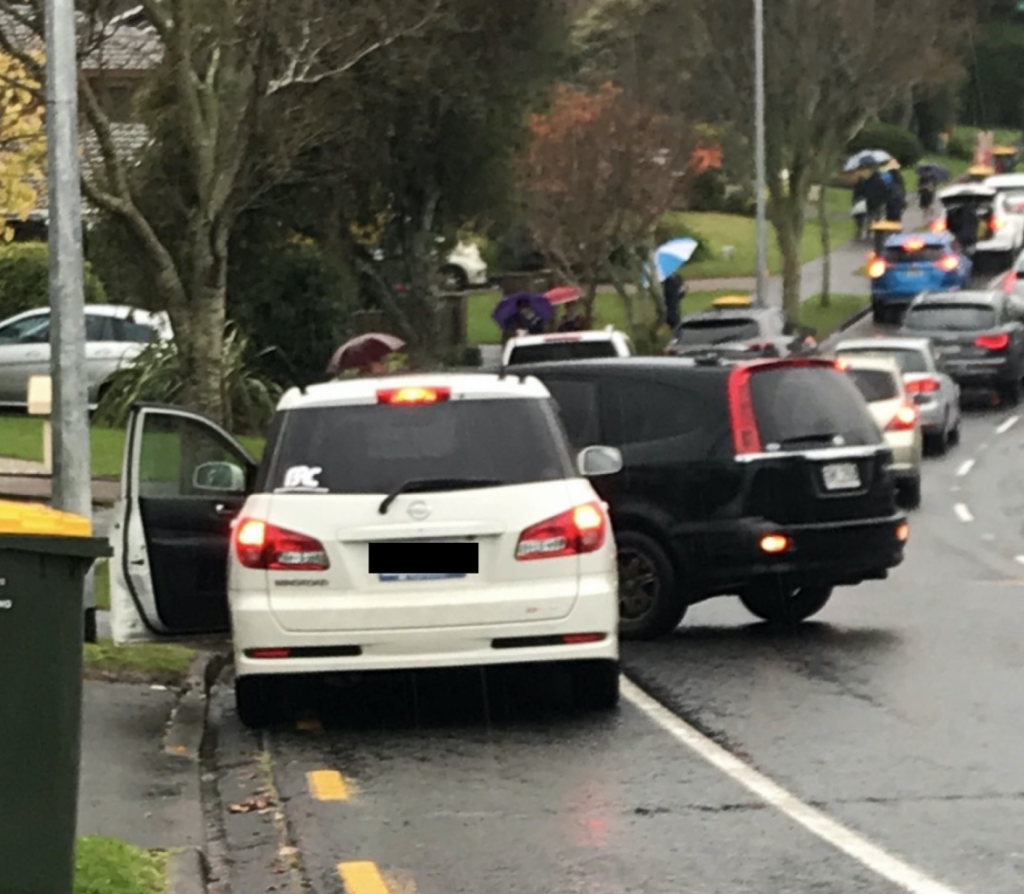 We are trialling a number of measures in the hope that this situation can be improved. One of these will be a parent volunteer assigned to monitor the areas causing the most concern. If you are parking with part of your car across a driveway or on a yellow line, you WILL be asked to obey the Road Code, and move your car immediately or your infringement will be photographed and forwarded to our community constable. If this happens, please take responsibility for your actions and rectify the situation.
Sick Children
With winter colds and sickness approaching please do not send your children to school if they are unwell. Staying home will allow them to get back to good health and not infect other staff and students.
School lunches
Due to the significant financial impact suffered during lockdown the business who provides our school lunches is being restructured.  School lunch ordering will resume in Term 3 (20th July 2020). This will be an online ordering option only and food will be delivered daily from the supplier. An updated menu will be communicated during the school holidays.
Please ensure your child/ren bring enough food to school each day for morning tea and lunch, plus a drink bottle of water.  Delivering food to students during the day is not appropriate.
Uniform
During terms 2 and 3 long trousers and long sleeved polo shirts can be worn by students.  The full range of uniform is available to purchase from John Russell Schoolwear at 9 Moore Street, Howick. 
Please ensure your child also has the correct school footwear, plain flat black school shoes or sandals.  Sport shoes, boots or branded footwear are not to be worn to school.
Dates for your Diary
Monday 29 June – Reports go home
Thursday 2 July – End of Term Two 3pm
Friday 3 July – Teacher Only Day
Monday 20 July – Term Three Commences
Welcome to
Ethan E'Silva, Mason Gouws and Yanika Li
BOT News
Next Meeting Thursday 23rd July 7pm.
PTA News
Next Meeting 23 June 7.30pm  via Zoom
If you wish to attend please use the following link –
Join Zoom Meeting
https://zoom.us/j/93672356448?pwd=VHlZM1p2WkZaeGVtWGNnek54MXFIQT09
Meeting ID: 936 7235 6448
Password: 3AHztQ
Cans Mufti day was held on Friday 19 June. The cans collected were donated cans to the Howick  Salvation Army. Thank you for your generosity.
Cross Country 
This was held on Friday and it was a brilliant sunny day following  heavy rain on Thursday.
Well done to all our students.
Results as follows:
| | | | |
| --- | --- | --- | --- |
|   | First | Second | Third |
| Year 0 Girls | Annie Hu | Tasha Chukhutin | Yoyo Fu |
| Year 0 Boys | Oliver Lin | Suho Park | Ethan E'Silva |
| Year 1 Girls | Fiona Cen | Anna Li | Olivia Wang |
| Year 1 Boys | Yarunthan Nishanthan | Matthew Song | Blake Cheng |
| Year 2 Girls | Jessie Holmes | Lexi Wood | Angelina Pan |
| Year 2 Boys | Keanu Wilson | Roy Zhou | Tenuja De Silva |
| Year 3 Girls | Maggie Li | Ella Clarke | Gargi Shetkan |
| Year 3 Boys | Alan Yan | Danesh Variava | Isaac Wong |
| Year 4 Girls | Skye Wilson | Neve Robinson | Emily Piper |
| Year 4 Boys | Jack Hermans | Kayden Wood | Curtis Campbell |
| Year 5 Girls | Megan Joubert | Natalie Wei | Bhakti Tiwari |
| Year 5 Boys | Ayden Cheung | Remy Demuth | Ghazi Rizvi |
| Year 6 Girls | Danaca Stralen | Ella Hayter | Anja Hermans |
| Year 6 Boys | Owen Liu | Rory Gillion | Ben Ellis |
Community Notices
Mother Earth Future Ferns 2020 @ Howick Pakuranga Netball Centre
Years 3&4        Tuesdays 4-6pm, Terms 2&3                    
Players enrol AS A TEAM. Every team must supply their own coach which can umpire the games. Every team will follow the Mother Earth Future Ferns junior netball programme. The session consists of a 15 minute coaching session from the easy to follow coaching resource, followed by a modified game against other teams.
Register at www.hpnc.org.nz
Bizzy Bodz Holiday Programme 6 -17 July
Book online at bizzybodz.aimyplus.co.nz
Guitar Lessons