From the Principal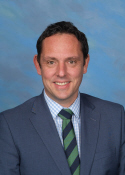 One of our favourite times of the week is our Monday morning PB4L assembly. We start each new school week collectively on the school astroturf and it is a pleasure to celebrate our school values in action. We generally have a group of students who have shown the 4 values during weekend activities, and we have the privilege of celebrating those children who have been recognised in sporting or cultural pastimes, clubs and events. We would like to extend this further, to recognising those children who have shown values at home or with family- if you would like to nominate your child for putting the school values into action at home, email a quick summary to your child's teacher, and each team will nominate a different person each week to be featured at the PB4L assembly in front of the school.
Collection of Students at the End of the Day
This is a friendly reminder that school ends at 3pm each day, and we expect students to be collected once school closes. We understand that there can sometimes be minor delays in collecting students, and we are very happy to look after the children of any parents running late. However, we have noticed that a number of children are not being collected until 3.30pm or later, and they are either remaining at the Loloma or Wells gates, or being instructed to remain on the playground to play. This is not allowed. We remind parents that we do not provide free childcare or supervision of students in these situations. We intend to place children who are regularly on the school site until past 3.30pm into the after-school BizzyBodz programme and families will be invoiced for this childcare. Alternatively, contact BizzyBodz on 09 530 9020 to book them into the programme. 
New Signs- No use of playground before or after school
As a result of the situation outlined in the previous article, you will have noticed a number of new signs being added to our playgrounds this week. Unfortunately we have noticed a growing trend in students remaining behind in school at the end of each day using the playground. This has resulted in a number of injuries which our first aid staff have been required to address- the main cause of the injuries has been the lack of supervision. The playground is now off-limits at both the start, and end of the school day until 4pm.


Gardening
We are fortunate enough to have many garden beds, an orchard and a few vegetable gardens at our school. Our students who are involved in the Enviro group have been working hard over the past few weeks tidying up the orchard and preparing to grow some vegetables to give back to our community. However, as the saying goes, "many hands make light work." 
If you are a garden enthusiast and keen to share your knowledge with our Enviro group or lend a helping hand in our gardens, please email general@pmps.school.nz with the subject line – gardening. 
Anxiety Management and the Stress Response – A free workshop with Anxiety New Zealand Trust at Pigeon Mountain Primary School
Anxiety is a natural response to stressful situations, its purpose is to keep us safe from harm. Sometimes, unfortunately, we are exposed to situations that are more than just stressful, and the anxiety that is triggered and maintained afterwards can be devastating. 
If we remain in an anxious state for long periods of time it can have all sorts of negative impacts on our lives. The good news is there are many effective strategies to reduce anxiety after experiencing stressful or traumatic events. This workshop aims to introduce a few strategies that are particularly helpful for young people, and can easily be incorporated into their lives by caregivers. We will talk about anxiety and the brain, and how the stress response affects our bodies. From there we can work through some strategies to reduce anxiety.
When: Thursday 10th June from 6.30pm – 8.00pm
Where: Pigeon Mountain Primary
If you are interested in attending this workshop please CLICK HERE and fill out the Google Attendance Form by 12.00pm Wednesday 8th June. 
New Parent Induction Event
Many thanks to the impressive number of families who attended the New Parent Induction session on 13th May. The helpful materials and Principal's presentation from this event can be viewed on our website at https://www.pigeon-mountain.school.nz/new-parent-induction/
Chess Team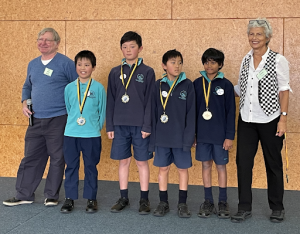 Congratulations to our victorious Chess team who won the HPPA Zone Chess Championship on 24th May. The team were unbeaten in their 6 rounds and have qualified for the National Championships later in the year. We would also like to congratulate each of our 20 players who represented school so wonderfully at the event- they showed our school values and were great ambassadors for Pigeon Mountain.
Road Safety Week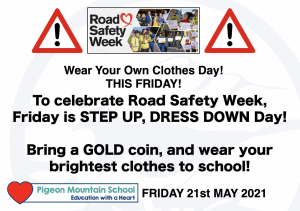 Thank you to everyone who participated in our Road Safety Week events. Our school was an incredibly bright place on Friday, and students wore their brightest attire for the non-uniform day celebration! A short video clip sharing some of the highlights can be found on our website homepage.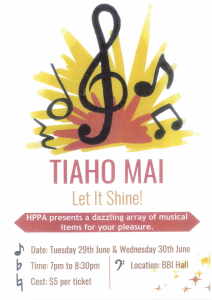 Music and Choir Festival
A group of our students are participating in the Tiaho Mai 'Let it Shine' musical event at BBI in late June. Tickets  are available from the school office.
Walking to School Bus- NEW Route Added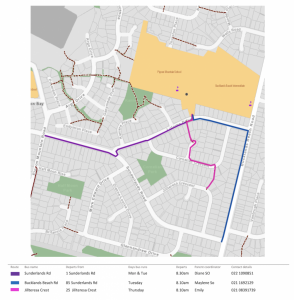 We have a 3rd route added to our Walking to School Bus network! Details are shown on the map! We are always looking for new routes to give our children the opportunity to walk to school in a safe, supervised way- if you are able to volunteer your time to pick up days on existing routes, or to develop a new route, please contact local AT coordinator Candy Li at yeye.li@at.govt.nz or check out our Walking to School Bus page on the website.
Dates for your Diary
Tuesday 1 June – Netball Field Day
Wednesday 2 June – Rooms 18 & 22 Sky Tower Trip
Thursday 3 June – Rooms 17 & 19 Sky Tower Trip
Thursday 3 June – Saving Day Netball Field Day
Friday 11 June – Rooms 6, 7, 8 and 9  Zoo Trip
BOT News
Next Meeting Thursday 17 June 7.00 pm
Community News
MusiqHub Guitar & Ukulele Lessons with Ben –  ben.lee@musiqhub.co.nz  or 021 529 531