From the Principal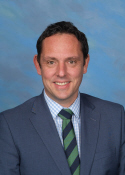 One of the nicest parts of my job is living in the heart of our school community. 
Bumping into people who belong to our school, either as a parent or student is a very common feature of my time outside of school. Whether I am in the supermarket with Mrs Dickinson, walking (or sometimes running) in the local area, or strolling around Botany, I will generally see a familiar face, or hear my name being called from a passing car! I enjoy these moments alot!
Being part of our school community is something I am proud of. We are a very diverse group of families- many of us having arrived in this area from places around NZ, or even from overseas. Belonging to a group with a shared connection to our school helps to bring us together, and I think the strength of our school community is something which marks our school apart.
In this newsletter, there are a number of items which will enable you to participate in our school, for the benefit of others and to further grow our sense of togetherness. If you can support either of these initiatives, we would be very grateful.
We have had a number of groups during the past month who have been out of school on visits and trips. Every one of these groups has represented our school wonderfully and have been amazing ambassadors for Pigeon Mountain. Thank you to the teachers and adult helpers who have supported these visits!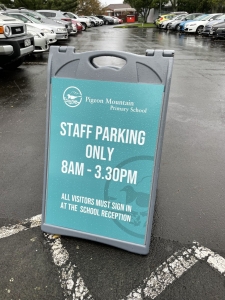 A STAFF PARKING ONLY sign is now displayed on the school driveway. There are no exceptions to this rule unless you are directed to enter by our office staff.                                                              Drivers passing this sign to use the staff car park without permission will be reported to our Community Police Constable.
Kiwi Competitions
As part of our school wide goal of growing the number and range of extra curricular activities opportunities; next week, we will be hosting three Kiwi Competitions in the subject areas of English, Mathematics and Science.
 If your child has signed up for these competitions they will be meeting with the Teacher in charge during the week, so that they are familiar with how the actual competition will run on the day. 
Your child is required to be at school no later than 7.45am, as we will be starting at 8.00am – no exceptions. Please ensure that you leave plenty of time for your child to arrive on time. Remember, no cars are allowed to enter the driveway. 
Tuesday 22nd June – Kiwi English Competition

Wednesday  23rd June – Kiwi Mathematics Competition

Tuesday 29th June  – Kiwi Science Competition
ICAS Competitions
Details of the entry process and dates of ICAS examinations in 2021 will be shared with the community shortly. These exams take place next term.
Gardening at Pigeon Mountain Primary
As part of the schools wider strategic goal we are aiming to establish a cohesive school community which enhances learning. One of the many ways you can help us with achieving this goal is through assisting our students who are apart of the Enviro Group that meet each Monday during their lunchtime. 
We are fortunate enough to have many garden beds, an orchard and vegetable gardens at our school. Our students have been working hard over the past few weeks tidying up the orchard and planting  a variety of vegetables that we are wanting to give back to our community alongside many other gardening projects. However, to make this possible we need YOU!
If you are a garden enthusiast and keen to share your knowledge with our Enviro group or lend a helping hand in our gardens, please email general@pmps.school.nz with the subject line – gardening. 
Extra Curricular Activities at Pigeon Mountain Primary
As a school, we are always looking at ways of how we can offer our students a range of activities. One of our school wide goals is to 'grow the number and range of extra-curricular opportunities on offer.' If you would be happy to volunteer a hobby or passion with our students please CLICK HERE to fill out the Google Form. This could be something like: Board Games club, Scrapbooking, a sport of your choice, weaving, knitting etc.
Dates for your diary
Thursday      17 June  –  School Board Meeting 7pm
Tuesday        22 June –  Kiwi English Competition
Wednesday  23 June –   Kiwi Mathematics Competition
Thursday      24 June –  Team Puriri visit to Howick Historical Village
Tuesday       29 June  –   Kiwi Science Competition
                      29 June  –  Choir festival at BBI
Wednesday  30 June  –  Choir Festival at BBI
School Board News
Next Meeting Thursday 17 June at 7.00pm
Community Notices
Guitar and Ukelele Lessons with Ben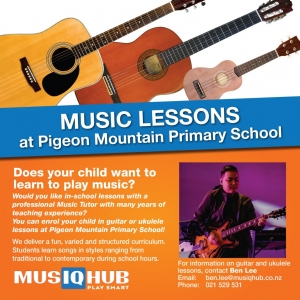 Howick Leisure Centre -Holiday Programme – please click on this link  Howick Lesiure Centre July School Holidays
HCYT Holiday Programme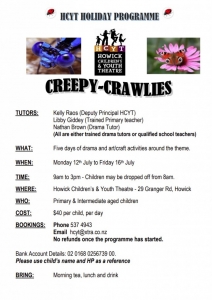 Initiate Dance Holiday Programme July 2021 – East Auckland
Fencible Lounge (Howick Library)
$75 for the full week
Dance away the holidays and join in the fun! Over one week 8 to 12 year olds learn a variety of dance techniques and routines with fun games and team building activities. The dance programme is about engaging young people in a positive way during the school holidays.
Students finish the week with a fun performance for family and friends. No dance experience is needed.
The HJ Elite Team is excited to share our upcoming July Holiday Camp with Pigeon Mountain Primary. The camp will be held at Rongomai Park on July 12th-15th and July 19th-22nd with half day and full day packages. Please feel free to see the attached flier for more details or click the registration link – https://hjeliteacademy.co.nz/school-holiday-soccer-program-auckland/