From the Principal
Ngā mihi o te rā!
We would like to thank our entire community for the hard work and effort that is going into supporting our learners during the current lockdown. I have been fortunate to have attended  numerous Google Meets with students in different age groups, and I am full of admiration when I see the calm, productive online environments each class has created. Whilst we are hoping for a rapid return to school in a more 'normal' face-to-face sense, the positive and productive way in which our students and teachers are going about the business of learning is a credit to them all!
Mā te wā.
Ian
Communication Details
It is important that school holds your up-to-date contact details at all times- particularly during times of lockdown and changing alert levels. Please ensure we have an accurate email address on our system- there are a number of important school wide communications being sent in the coming week, and you will not receive these unless we have your current email address in our system. 
For your information, the most recent school-wide email was sent to the community on 23rd August regarding a COVID-19 Alert Level Update.
Transition to Alert Level 3
We are hoping that Auckland may drop from Alert Level 4 to Alert Level 3 in the coming week or two, and we are monitoring development closely. When we are given an indication of an impending move to Alert Level 3, we transition into a blended online learning and in-person learning model.
It is important to note that school remains closed at Alert Level 3 to everyone other than the children of essential workers who have no other adults at home to provide supervision.
Online learning programmes continue unchanged from Alert Level 4.
The children attending school at Alert Level 3 are supported in bubbles of no more than 10 students by members of our support staff. These children continue to engage with online learning and teachers remain teaching from home.
On the announcement of a move to Alert Level 3, we will share a Google Form through our school email for essential workers to complete. This will provide us with an indication of the number of students likely to return to school at this level. We will then share detailed information about procedures directly to these families. 
Online Student Conferences – Term 3
At some stage before the end of this week, you will receive an email from school with details about our upcoming Online Student Conferences. Under all alert levels other than Alert Level 1, the number of adults allowed to access our site is limited, and we have made the decision to hold online conferences before the end of the current term. We held similar conferences in the same circumstances in 2020.
You will receive an email with details of how to book your conference slot, and how to access the online conference spaces at your allocated conference time.
PMPS Spoon School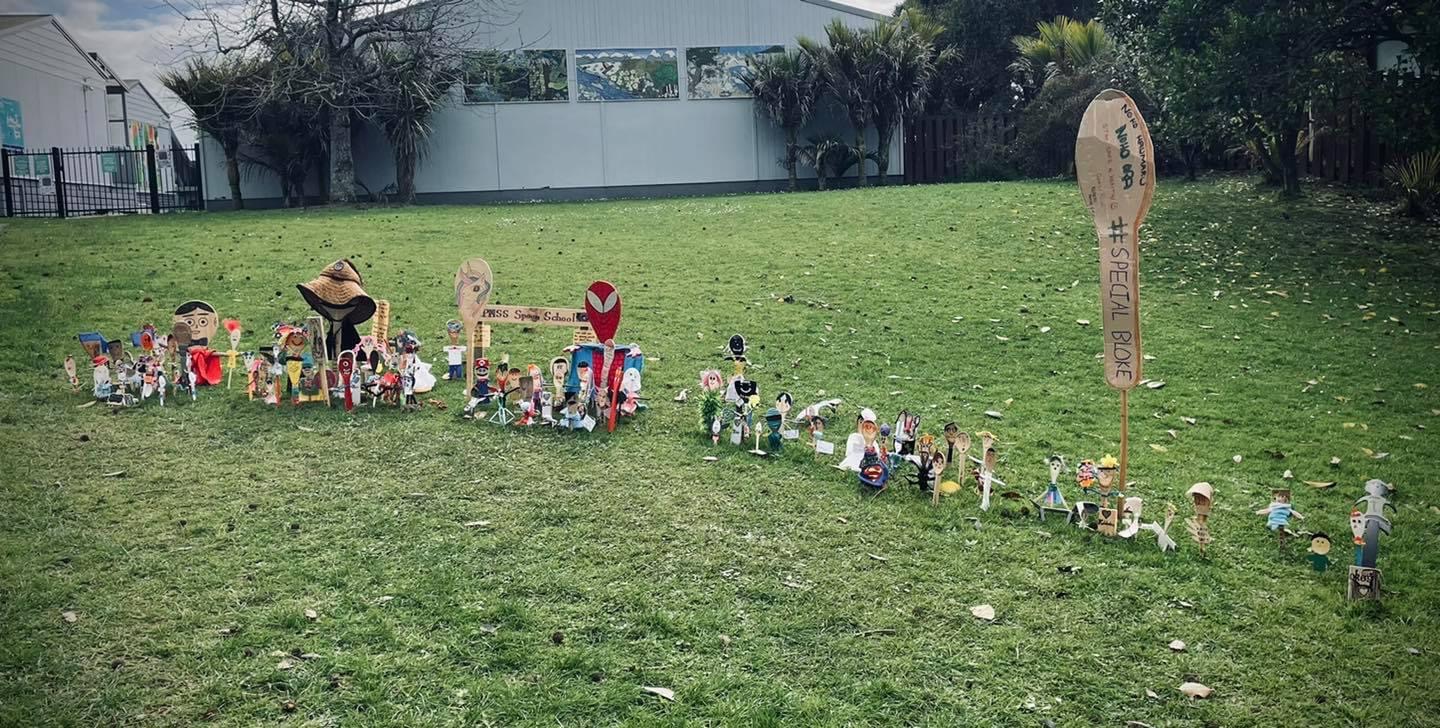 We are delighted to see our PMPS Spoon School growing each day! Thank you to everyone who has contributed to our colourful display- it has proven to be a wonderful way to remain connected, and also to show some creativity and artistic talent during lockdown! The Spoon School remains open for new enrolments! It is accessible from the Loloma Drive entrance, and we are grateful for all the visitors to the site for exercising physical distancing when making visits.
Jenni Slater – Room 24
We shared the news this week that Mrs Jenni Slater will be leaving our school after 10 years to take up a role with the RTLB service. Jenni has been Team Leader at PMPS for a number of years, most recently as leader of Manuka to the end of 2020, and then as leader of Kahikatea from the beginning of 2021. We wish Jenni well with her new post, and hope she enjoys her final few weeks with us.
"The past 10 years at Pigeon Mountain Primary have been amazing. I have been so blessed to be part of an amazing school full of wonderful and supportive people. I have loved being part of the learning journey for so many students and families over the years and am sad to be leaving my students this year.  It is time for me to take a slightly different direction in my career and so I have decided to become an RTLB. In this role I will still be able to help children in many schools around the East Auckland area. Thank you to all the staff, students and families who have made my time at Pigeon Mountain so special."
We welcome Mrs Lisa Kulatunga to our school in her role as Room 24 teacher. More information and a welcome from Lisa in the next newsletter.
COVID'19 Information
The Ministry for Ethnic Communities has just released some videos in different languages about the "Golden Rules for Level 4" which we thought we would share with you.
Sharing this valuable advice in various languages ensures our community has access to the information they need to keep themselves, their families and the broader community healthy and safe. Please feel free to share these videos with your networks. 
Simply click on the links below:
LAUNCHPAD- CHRISTIAN VALUES EDUCATION PROGRAMME
We have been approached by Christian Values Education organisation Launchpad about restarting their programme in our school from mid-term 3. The programme has operated at Pigeon Mountain School for a number of years previously.
The programme would be an opt-in, before school activity, operating on Tuesday mornings, from 8am.
Please complete and submit the opt-in Google Form through the following link.
https://forms.gle/fqjhyywqqpb8XJwc6
When; Tuesday morning 8am to 8.30am 
Where; School Library
Starting; Tuesday 31st August (running until late November)
If your child/children will not be participating in the sessions, you do not need to return the slip.
Dates for your Diary
Online Parent conferences
Conferences are scheduled to take place in Week 9 of this term. These will be 10 minute online parent conferences and you will need to book your conference via the School Interviews website. Information regarding how to book will be emailed to you.
The dates for our online parent conferences are
Wednesday 22 September – 1.00pm – 5.00pm

Thursday 23rd September –  1.00pm – 3.30pm
ICAS Examinations
Due to our current lockdown ICAS have extended the sitting window. The new dates are:
ICAS English – Tuesday 26th October

ICAS Science – Thursday 28th October

ICAS Mathematics – Tuesday 2nd November
All students are expected to be at school by 7.30am with their own device if they normally bring this to school. Students will be informed a day prior to their exam which classroom they will be sitting the exam.
School Board News
Next Meeting Thursday 23 September at 7pm
Sports News
PMPS Rugby – We managed to field two teams this year in the Under 40kg and Under 50kg categories. We played two of three days that took place at Pakuranga United Rugby. There were many players that had never played rugby before and gave it a go, which was awesome to see. Those students that play club rugby got beside these students and mentored them by showing them a range of techniques and skills. As a school, we are super proud of each player's resilience and excellent attitudes when they were on and off the field. We would like to say a HUGE thank you to all those parents that offered transport to get our players to and from the venue. Without your support this could have never happened. A special mention goes out to Paul Hermans for helping coach the Under 40kg team.