From the Principal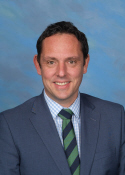 It has been wonderful seeing so many of our children returning to school during the past week. We understand that the current situation around COVID-19 in our community can be worrying for parents, but it is reassuring that you have confidence in the measures we have put in place for the wellbeing of your children and our staff. 
To date we still have less than 70 cases notified in students at school. Most of these are associated with homes and families, and the data provided to us by the Ministry of Health about the very low possibility of student to student transmission in school is proving to be accurate. To put this number into perspective, we have 23 classes operating at present, meaning an average of 3 student cases per classroom.  
We now head into another phase of the pandemic and we anticipate that there will be changes in coming weeks. Our board are working hard to understand the impact of the removal of the vaccine mandate, but other things will remain the same, including mask wearing and separate groups of students. As the Traffic Light system changes, we are likely to see other changes in a steady return to previous school practices, including the return of parents and visitors to the school site. We will be watching for announcements and will keep you informed as we receive further guidance from the Ministry of Education.
We anticipate that any changes brought about by the review of traffic lights on 4th April will be put into place from the start of term 2 for Pigeon Mountain School.
Enrolment at School – Continued Absence
THE INFORMATION BELOW IS AN UPDATE ON PREVIOUS ADVICE- Please read.
Regulation 11 of the Education Regulations (1951) requires that a Principal to record that a student has left school when the student has been absent for any period of 20 consecutive days, unless the Principal has been told that the student's absence is only temporary. 
The Ministry of Education advised us today that it is unlikely to be considered as temporary if a family is keeping their child at home because Omicron is present in the community. This is different from advice we have been giving previously and has changed on the basis of this new information from the Ministry of Education.
As a result, from Monday, we will be making an unjustified absence referral to the Attendance Service for any student who has been absent from school for over 20 consecutive school days. If students do not then return to school, we have no alternative but to record that the student has left school, and they will be removed from the roll.
Lakewood Lodge – School Camp #1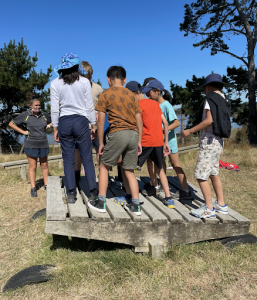 We would like to thank the parents and staff who accompanied our first set of campers to Lakewood Lodge this month. Our students had an amazing time, and we would like to express our sincerest gratitude to the parents who supported the teachers in creating wonderful memories for the children who attended. The second group of campers will be heading to the Waikato at the start of Term 2.
Uniforms
A reminder that our uniform for Term 1 remains unchanged- long pants are not a Term 1 item of uniform. Please also note that branded or sports footwear is not permitted to be worn as a uniform item. The helpful graphic below provides guidelines for the different school terms.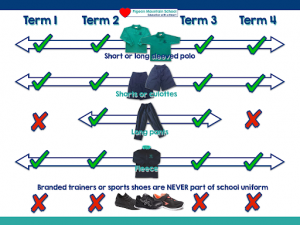 Student Learning Conferences
These will take place on Wednesday 6 April and Thursday 7 April.
School will finish early both days at 2.45pm.
Wednesday 6 April – in person interviews
Thursday 7 April – online interviews
You will be able to book your time slot via school interviews – details will be emailed to you. Please ensure that your email details are correct.
Counselling Services at PMPS
A reminder from the last newsletter that we are fortunate to have the services of a number of Counsellors working in our school.
John Winters – Lifewalk Trust
Yajun Zhao – AUT Practicum Counsellor
Taalia Naidoo – AUT Practicum Counsellor
If you feel your child would benefit from speaking with one of our counsellors, please make contact with your Classroom Teacher and they will help arrange a day and time for them to speak. 
Please note, that all sessions are confidential and all counsellors understand and follow Pigeon Mountain Primary School policies.
Dates for your Diary
Wednesday 6 April – Student Learning Conferences
Thursday 7 April – Student Learning Conferences
Wednesday 13 April – Anzac non uniform day
Thursday 14 April – Teacher Only Day
Wednesday 13 April – Last day of term
Dilworth Scholarships
Dilworth Scholarships – Dilworth School opens Year 7 to day students from 2023 
Every Dilworth student receives a fully-funded education with all expenses covered including music tuition, uniforms and school trips. We want more students to access the benefits of a Dilworth education experience, including small class sizes, specialist teachers and extra-curricular opportunities. That's why from 2023, we are trialling a Day School option for Year 7 students, alongside our usual boarding school offering. Transport will be provided, enabling students to join us for breakfast and stay for the after-school activities so they can experience all the benefits of the Dilworth experience, yet return to their families in the evening. 
If your son has a great attitude and you want to give him the opportunities you know he deserves, a Dilworth scholarship could be the stepping-stone he needs to reach his full potential. 
Register for a Guided Tour and experience the school in person. 
Visit dilworth.school.nz or call us on 09 523 3179. 
Community Notices
Dance Camp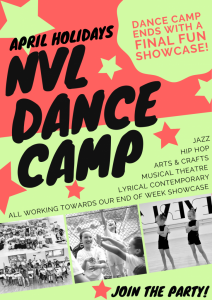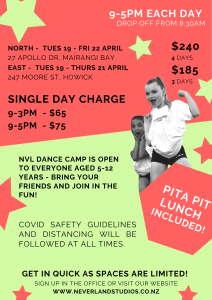 HCYT April School Holiday Programme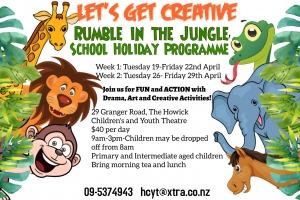 Howick Hornets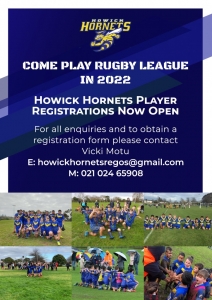 Guitar Lessons with Ben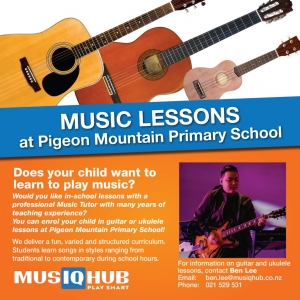 Chess Holiday Programme
Chess Lovers ONLINE Holiday Program

Week 1: 19 – 22 April
Week 2: 26 – 29 April
When:  9:00am – 12:15pm

Cost: $45

Why Join:
Develop thinking and problem solving
Learn great new skills
Interactive hands-on lessons
Experienced professional coaches
Make friends with like-minded kids
This program is suitable for kids who have some experience with chess
Holiday Surf Programme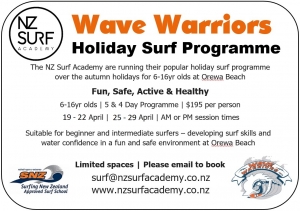 Uxbridge April School Holiday Programme
Fulton Swim School