From the Principal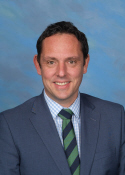 A reminder that our school classrooms do not open until 8.30am each day. Children should not arrive at school before 8.30am because there is no supervision. In colder winter months, we do not want children waiting outside in the elements – however, if they arrive from 8.30am, they will be able to go straight inside to the warmth of their classrooms where their teachers will be awaiting them.
The development of our orchard outdoor spaces is making good progress thanks to the recent dry weather, and we remain on track for an October completion date. Holes have now been prepared for the decking posts, and we are hoping to see some construction underway in coming weeks. We are excited that rooms 20, 21, ESOL, 22, 17, 16 and 15 will all be equipped with direct access to the orchard and covered deck spaces ahead of Term 4!
We are also now thinking about the Loloma Drive grassed area which will be reinstated once the building work is completed. At present, we are considering a simple regrassing of the existing slope to its previous state, with the potential addition of some sturdy bench seats for parents before and after school, but we are also curious about how else we could utilise this area in a way which benefits students or community – if you have any ideas, we'd love to hear them!
School Attendance
Following from the last newsletter, and the widely publicised national issue with attendance, we are very proud to report that our schoolwide attendance rate is 92% for this term to date. Despite being in the Winter term of sicknesses and colds, this is exactly the yearly average for our school in pre-COVID times! Well done everyone!!
2022 Board Elections
Voting for the Triennial Board Elections closes on 7th September. We have 7 excellent candidates for our 6 positions. Please use your votes- our school has a great record of engagement at board election time, and frequently polls more votes than other local schools. A strong board with a diverse array of skills and qualities is good for our school and community!
HPPA Schools Cross Country
We are very proud of the 48 students who represent our school at the recent Cross Country event at Lloyd Elsmore park. It was wonderful to see the 13 schools racing together for the first time since before COVID-19 and for children to have the opportunity to compete against students from other schools once again!
Walking to School Bus
Growing numbers of PMPS learners access our school from the streets around Macleans College, and we are keen to support a group of parents who would like to establish a Walking to School Bus route. If you would utilise a route which travels from Macleans College, along Richard Avenue, Bucklands Beach Road and then Loloma Drive, please contact our Community Transport Coordinator, Pauline Matete Pauline.Matete@at.govt.nz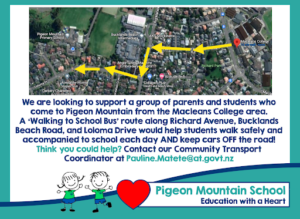 Safety at the School Gate
Unfortunately, wintry weather leads to an increase in selfish acts of driving and parking around the school. Please be reminded that stopping on yellow lines is against the law, parking across driveways at any time is illegal, and performing 3 point turns on or close to the crossing is dangerous.
We are advising our neighbours to contact Auckland Transport about making complaints about  repeat offenders, and we are working with AT and Police to help keep Loloma safe.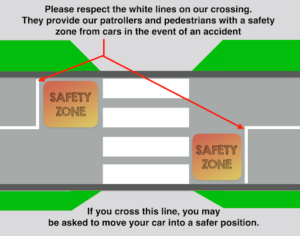 Collecting Children during the school day
Thank you to those parents who have been contacting the office to arrange to collect their child from school and for avoiding collection during the school breaks.
Please remember to email general@pmps.school.nz or phone the school office  09 534 9765 to arrange to collect your child.
It is difficult to find students during break times, so collecting students outside these times is appreciated. Unfortunately, if we are not notified in advance of a lunchtime collection, you may have to wait some time for us to track down your child!
Absence from School
Please report your child's absence from school via our Website or Skoolloop App
Year 6 Students enrolment at Intermediate Schools
A reminder to all parents and caregivers of our Year 6 students.
Please make sure you have enrolled your child at an Intermediate/Middle School for 2023.
For our local Intermediate Schools, the out of zone close off date is  3.00pm on Wednesday 7 September 2022.  All IN-ZONE students need to be enrolled by Wednesday 7 September 2022. If you have not done so please complete your enrolment application  as soon as possible.