From the Principal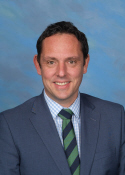 As with most large organisations, we take our responsibility to the environment seriously. You will have noticed that we no longer send brightly coloured, printed paper newsletters on a monthly basis, and we have shifted to a twice termly online newsletter which is accessed through our website. Features of the old paper newsletter like dates and reminders have been replaced by online calendars which remain constantly updated with accurate information. Skoolbag now offers us the facility to send push notifications direct to parents' pockets or bags through the wonders of mobile devices. Facebook and WeChat allow us to send information which appears on existing Social Media streams. In many classrooms, teachers are now sending real-time updates to families about student learning on apps like SeeSaw.
Although change can sometimes take a little time to adjust to, and for a while you may be missing the old newsletters and reminders which littered our playground or your own kitchen surfaces at the end of the school day. However, by connecting to our website, social media and SkoolBag app, you'll find that you have access to far more current, up-to-date information and news than we could ever fit onto the old A3 newsletters!
We understand that in the business of everyday life, students may occasionally be late to school. However, in these situations, could you please ensure you accompany your child to the office to sign them into school for the day- this is a compulsory requirement at Pigeon Mountain Primary School.
Play an active role in reviewing our school and providing us with your important feedback. We have a number of ways you can participate in our ongoing reviews. We value your thoughts and opinions and we use your contributions to help us continually improve. Two simple steps will give you a voice in our school practices.
Principal's Email Group
This group participates in 2/3 short (5-10 minute) surveys each term.
So far in 2019, the subjects of School Facilities, Kahui Ako and Bible in Schools have been our focus. The results of our surveys are published on our website at https://www.pigeon-mountain.school.nz/principals-email-group/
If you would like to participate in future surveys, email [email protected] to be added to the mailing list.
School Policies and Procedures
All Pigeon Mountain Primary School policies and procedures are available to read online at SchoolDocs. We encourage you to check out this site so you can become familiar with the school's guiding documents and day-to-day practices. We also actively need parents to participate in our programme of ongoing Policy review- once you have logged in to the site, you can follow the red icon to 'Current Reviews' and offer your feedback on those currently being reviewed as part of our 3 year rolling cycle. A number of policies and procedures are reviewed each term.
Because SchoolDocs is an online service, translation is simple, allowing us to engage with the complete Pigeon Mountain community, in all languages.
Visit https://pigeon-mountain.schooldocs.co.nz/1893.htm to begin exploring and reviewing. Enter the username which is pigeon-mountain and password of pmps1439
As outlined in the previous newsletter, we will be leaving NZ Uniforms at the end of July and starting a transition period before commencing a new arrangement with John Russell Schoolwear in Howick in November/December.
There will be some disruption to the supply of uniform between the months of August and December, and we strongly advise you to check on your current uniform situation before the end of July.
We intend holding a number of sales events at school to sell off the remaining school uniform stock, but will have limited supply in a number of items. During the interim period, John Russell will be able to source some common items in an emergency for you, such as green polo shirts, as well as socks and other accessories.
Bucklands Beach Intermediate School have advised us that they will be taking enrolments (both in zone and out of zone) for Year 7 next year from Monday 29 July. The closing date is 3.00 pm on Wednesday 5 Septmeber 2019.
Dates for your Diary
End of 2019 Academic Year;
Thursday 19th December 2019 at 3pm
Start of 2020 Academic Year;
Monday 3rd February 2020 at 8.50am
Year 4 – 6 Reports Going home Monday 24 June
Hockey Field day Tuesday 25th June Lloyd Elsmore Hockey Stadium
School Cross Country Wednesday 26 June (Saving day Friday 28 June)
Literacy Quiz Friday 28 June
End of Term Friday 5 July
Term three commences Monday 22 July
Board of Trustee Meeting 25 July
Welcome to:
Zara Wang Rm 20, Archer Kemp Rm 5, Chrissy Chu Rm 1, Khloe Borrageiro Rm 4,  Amy Borrageiro Rm 9, Eden Jiang Rm 1
New Parents Induction Afternoon
We are holding our termly new parents and families induction event on Thursday 4th July at 1.45pm in the hall. This event is for those who have joined our school community through terms 1 and 2 this year. You should have received an invitation to this event if your child has joined our school since February. If you have not received your invitation email, please contact the office to check we have your correct details/address.
Sick Children
With winter colds and sickness approaching please do not send your children to school if they are unwell. Staying home will allow them to get back to good health and not infect other teachers and students.
PTA News
Pohutakawa Bake Sale Friday 5 July
Next Meeting 7 August
Sports News
Rugby Field Day was held on Wednesday 12 June.
Coach Roger Whatman had this to say about the day –
The team had a good day winning two games and losing two. The first game against Wakaaranga was a loss of 43-5, but the team came back well to win against Mission Heights 32-5. In the third game they beat Botany Downs 30-0 and then went down narrowly 12-5 to Willowbank. All players contributed but those who stood out were Cameron Aldworth who scored some great tries, Bailey Thompson (the only girl I saw playing) who was always making progress forward, Max McAuley who was aggressive and Oscar McConnell who directed play well. Young Jacob Thompson(Y4) is certainly one for the future. The boys would have learnt a lot from these games and their experience will help going into future field days.
Netball
Tuesday 18 June -A Team vs Botany Downs School won 9-3
                             -B Team vs Bucklands Beach Primary won 8-2 (Pictured)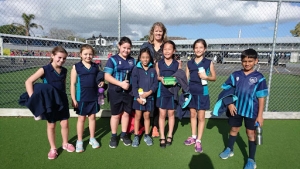 Soccer
Thursday 20 June – Field day at William Green Domain
Soccer League games day: On Thursday the 20th of June the soccer team of 12 players went to participate in a league competition at William Green Domain. The soccer organisers decided that it would be better to play all our games at a central venue on one day rather than having separate games over lunch times. It was a cold wintery day, but this did not deter the players from giving it their all. In total we played four 40 minute games. We won 3 out of 4. The player of the day was Salvador Vantacich. Hopefully we might make it to the semi finals round of matches. The players were exhausted at the end and all of them enjoyed the day. Best of luck to the players for the rest of the season. Kevin Wroth
Marathon Running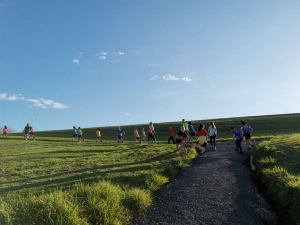 Our Wednesday weekly Marathon running club are now over half-way towards their 40km target! The students are all entered into the Auckland Kids Marathon, which takes place in October, and their levels of fitness and resilience continue to grow on a weekly basis! We take in some beautiful sites on each Wednesday run- Bucklands Beach and Eastern Beach are our favourites!
Cross Country
Cross Country training has started – please ensure the office has an inhaler if your child has asthma. We have set the following dates for our world famous Cross Country day!
Main Day; Wednesday 26 June
Years 0-3  11.30 am
Years 4-6  1.50 pm
Saving Day (in the event of inclement weather); Friday 28 June