From the Principal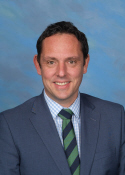 Like everyone else, we were caught by surprise when the Prime Minister announced a shift to Alert Level 3 last Sunday. However, we had planned for such an eventuality, and had spent time during our Teacher-Only days at the start of term preparing our online learning platforms. Even during the limited amount of time we spent away from school, our teachers managed to maintain routines, connections, and most importantly learning for the children in their classrooms. Coming back to school on Thursday was an almost seamless transition, and perhaps indicates how we have adapted to our 'new normal' brought about by the COVID pandemic.
There is a strong chance that we will need to react in this way again should there be further outbreaks of the virus in our community. In school, we have reminded ourselves of the mantra: Prepare for the worst, but hope for the best. We will continue to review and adapt our online learning platforms and practices to ensure we're ready should we rise through the Alert Levels again. In the meantime, please take time to communicate with your child's class teacher about anything we could do differently, or anything we need to know about your circumstances to best help us assist you. Thank you to the parents who shared your positive lockdown-learning experiences with us last week. It was wonderful to see our students so engaged at home, and to read about your experiences. All the kind comments and messages have been passed to classroom teachers- they are thrilled to know how they are making such a positive impact!
Swimming Trials and Practices
Trials for 7 and 8 year old swimmers took place on 9th February. 
Trials for 9 and 10 year old swimmers will take place at 7.45am from Tuesday 23rd February IF Auckland is at Alert Level 1 at that time. Our trial is now full- no further permission slips will be accepted. 
Swimmers will be advised before the next session on Tuesday 2nd March whether they have been selected for the team. Only selected swimmers should attend this training session.
Family Picnic
We are awaiting news of a shift in Alert Levels before we communicate a date for this rearranged event.
Dates for your Diary
Y6 camp  16-19 March
BOT News
Next meeting is Thursday 18th March 7pm
School Donation
The Board of Trustees have set the school donation for 2021, at $230.00 per student. 
Donation tax credits are also available from Inland Revenue. Please keep your donation receipts if you are wanting to make a claim from 31st March 2021.
There are several options to pay –
* Online when purchasing student stationery from OfficeMax – www.myschool.co.nz
* Online through your Kindo account – www.kindo.co.nz
* Direct credit a/c 02 0168 0210765 00 (please use student name as a reference)
* At the school office by eft-pos or cash
Sick Children
Please do not send your children to school if they are unwell. Staying home will allow them to get back to good health and not infect other staff and students.
Road Patrol Support 2021
We need adult help with road patrol in 2021. This involves supervising the students to ensure that our students arrive at school safely. This is from 8.15am until 8.50am, mornings only
You can volunteer for one morning each week or each fortnight, whatever time you can spare will be appreciated. If you wish to know more or would like to offer your help please contact the office by emailing general@pmps.school.nz.
PTA News
Next Meeting is Tuesday 23 February 7:30pm in the Staffroom. 
Community News
For information on guitar and ukulele lessons, contact Ben Lee
Email: ben.lee@musiqhub.co.nz
Phone: 021 529 531