From the Principal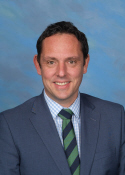 Welcome back to a new term!
We are now into the second half of the year- it is hard to believe we are almost into August!
We have a number of changes taking place in the coming weeks, and we are farewelling a number of old staff, and welcoming some new additions to our team.
We said goodbye to Sheryl Farmer during last term, and we will shortly be welcoming Dylan Marshall who has been appointed to the dual role of Room 3 teacher and Puriri Team Leader. Dylan joins us from Opaheke School, but prior to this spent a number of years working in the Australian International School in Singapore, and before that at our neighbouring Bucklands Beach Intermediate. 
We are also sad to farewell Tineke Oed from her role as Room 13 teacher in August. Tineke is leaving us after 2 and a half years at PMPS to pursue other employment opportunities, and we wish her well in the next step of her career. We are pleased to welcome Blair Fitzsimons to Pigeon Mountain as her replacement. Blair trained in Otago before heading overseas and enjoying a wide range of teaching experiences in international schools. 
Our final farewell is to Carol MacGillivray who leaves us after 10 years working in various roles. Carol has spent the last 8 years as our Executive Officer, and has been appointed to a leadership position at Somerville Special School. We congratulate Carol on her new appointment, and know her expertise will be hard to replace!
Dates for your Diary
Wednesday 28 July – HPPA Soccer Tournament
Thursday 29 July –  School Board Meeting 7pm
Wednesday 4 August – School Cross Country
Friday 6 August – Saving Day School Cross Country
Wednesday 11 August – 7.30am ICAS Digital Technologies
Thursday 12 August – Kauri Trip to Polish Heritage Museum
Monday 16 August to Friday 20 August – Book Week
Wednesday 18 August – 7.30am ICAS English
Wednesday 25 August – 7.30am ICAS Science
Wednesday 1 September – 7.30am ICAS Mathematics
School Board News
Next meeting  – Thursday 29 July 7pm
Bucklands Beach Intermediate Enrolments for 2022 
Enrolments are now open for enrolling at Bucklands Beach Intermediate for Year 7 2022.  Please visit the BBI Website, https://www.bbi.school.nz/enrolment-uniform and complete the online enrolment form.  Do remember to check and have a PDF copy of all the documents that are required beforehand.
BBI Open Morning
BBI will be holding an Open Day morning on Friday 30th July.  There will be 2 sessions:
9:00am – 10:00am and again from 11:00am – 12 noon.
No booking is required, just turn up at either of these times.
Community Notices
Art Classes
Term 3 Tuesday after school art class
Pigeon Mountain School hall
Time : 6.00pm—7.00pm
Art class: Drawing, Oil pastel, Sketching, Painting – Only $12.00 per lesson.
Please contact Janet 027-6555574 or email: janeto@xtra.co.nz
Bucklands Beach Tennis Club
Rogers Park, Jern Pl, Eastern Beach
If you are interested in learning to play tennis-  a game for life –  then its time to start enrolling and getting ready for the start of the season in  Term 4
Enrolments are now open online. All information regarding classes is found on the website.
Free trial…..Our  '  Love Tennis '  Open day is on Sept 19th 1:30 pm so put the date down to come along and have a free trial . Open to all ages Adult to kids.
If you want to get going straight away you can join in this term with our Winter programme running on Wednesday afternoons.
  Term 3
Aug 4, 11, 18, 25
Sept 1, 8 ( 15, 22, 29 rain days )
Wednesdays
Session1 – 3:30 to 4:30 – 5 to 8 year old beginners
Session 2 – 4:30 to 5:30 – 9 years and older, beginner to intermediate level
Session 3 – 5:30 to 7pm – Advanced competition players/ coaching and fitness
Cost:
Session 1 and 2 : $90 for the 6 lessons
Session 3 : $120 for 6 lessons
If you wish to book in and join this winter tennis then please  
email bbtc@xtra.co.nz
 or text Julia Sim – Coach on 021505553.
We commence in week 2 ( next week ).
Chess
Chess classes for term 3 start Thursday 29 July.
Please register at www.chesspower.co.nz/register
Indoor Netball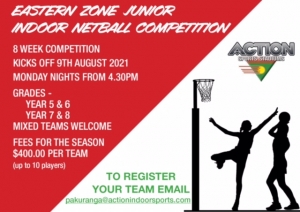 Guitar and Ukelele Lessons
Lessons with Ben