From the Principal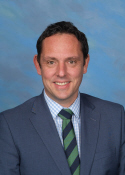 This September, national School Board elections are taking place across Aotearoa New Zealand. These elections take place every 3 years and enable you to vote for representatives who will sit as Pigeon Mountain Primary School board members. We strongly encourage you to participate in the process of electing a new board- whether this is as a candidate, or as a voting member of the school community. 
School boards are active leaders in our schools. They have an important role of supporting strong professional leadership and ensuring effective teaching for all students through informed governance.
You can find more information about these elections on the NZSTA website https://www.schoolboardelections.org.nz/becoming-a-board-member/ or by attending one of two information sessions on Thursday 7th July in our staffroom. Current board members will be present to share their experiences of school governance, and to answer any questions you may have.
Thursday 7th July – PMPS Staffroom
Session 1 – 2pm
Session 2 – 7pm
We anticipate that these sessions will last for around 50 minutes.
You will receive nomination forms during the school holidays. Prospective candidates must be nominated by an existing Pigeon Mountain Primary School parent, and voting will take place during August, with the new board being inducted in September. 
Our school has a history of being one of Auckland's most active schools in terms of votes cast at Board election time, and we are keen for this to continue! Please participate in this year's election!
Dates for your Diary
Term 2 finishes on Friday 8 July at 3pm
Teacher only day – Monday 25 July
Term 2 commences Tuesday 26 July
For parents of our Year 6 Students 
Bucklands Beach Intermediate School Enrolments for 2023
Bucklands Beach Intermediate School will begin taking both in zone and out of zone enrolments from current Year 6 students for Year 7 next year.  The online enrolment form will "go live" from Monday 4th July.  Go to this address https://www.bbi.school.nz/enrolment-uniform , read through and prepare documents to attach, and then click on the 2023 Enrolment form.  The closing date for all enrolments is Wednesday 7th September, 2022. 
Please note – it is your responsibility to ensure your child's enrolment is completed for intermediate school. Pigeon Mountain Primary School is not responsible for late submissions or applications for any of our neighbouring intermediate schools.
Collecting Children during the school day
Thank you to those parents who have been contacting the office to arrange to collect their child from school and for avoiding collection during the school breaks.
Please remember to email general@pmps.school.nz or phone 09 534 9765 the school office to arrange to collect your child ahead of time.
It is difficult to find students during break times, so collecting students outside these times is appreciated. Unfortunately, if we are not notified in advance of a lunchtime collection, you may have to wait some time for us to track down your child!
Absence from School
Please report your child's absence from school via our Website or Skoolloop App
ICAS Examinations
Should you wish for your child to participate in these exams please enter your child direct with ICAS at https://www.icasassessments.com/shop-parents/
Using our school code  – GEM469 before Monday 1 August.
Salvation Army
We have received the following letter from the Salvation Army thanking you all for your generous donations to our recent collection. Salvation Army Letter
Community Notices
Bucklands Beach Intermediate School Board Elections
Bucklands Beach Intermediate School will be holding Board elections in September this year.  All Year 6 in zone parents from contributing schools are eligible to vote- even though they are not yet a parent of the school. You will receive nomination forms in mid July from CES (Canterbury Education Services) who will be acting as returning officers.   Should you live out of zone, but wish to stand on the Board, then please ensure that the person who nominates you is on the electoral Roll (showing as in zone for BBI).  Do contact the BBI school office on mailbox@bbi.school.nz if you are interested in attending a Board meeting.
Bizzy Bodz Holiday Programme – Bizzy Bodz July 2022
Neverland Dance Programme
–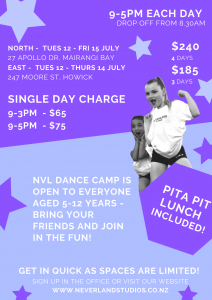 Pform Nz Holiday Programme – July HP Flyer